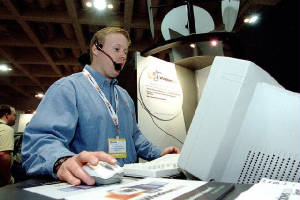 PROMOTION-YOUR OWN INTERNET RADIO
The technology on the Internet has made it easier for the average person or organization to compete with giants in their industry.
For fighters, promoters, trainers, fans and anyone else who loves the fighting arts, you can now be heard anywhere in the world through Internet radio. There are many forms of Internet radio but the least expensive is to upload your shows, music and interviews from your computer in streaming media. By uploading mp3 files over the web or you can operate your show live with a computer microphone.
The best and least expensive product is Pirate Radio (www.pirateradio.com). Pirate Radio software cost $39.00, which includes shipping. Some people who may be familiar with Internet radio probably remember Pirate Radio software as RadioDestiny broadcaster. Pirate Radio is the latest version. Your listeners will have to download the Destiny Media Player.
Instead of waiting for the media to come to you. A rising fighter, promoter or club can add Internet radio as a tool to get the word out about the latest activities on their sport. Pirate Radio is simple to use yet a very functional interface.
It is easy to set up. You can switch from pre-recorded to live quickly and the minimum requirements are easy to meet. Such as computer operating systems, etc. It can be used with dial up or broadband connections.
You can use Internet radio to:
Interview guests.

Discuss your point of view.

Play music.

Promote yourself

Promote your school or club

Give lessons about your discipline.

Discuss how to improve your sport and more.

The greater your popularity becomes; you may later want your show to be sponsored.
As you may notice, the major networks and media work hand and hand to help a sport grow. Without media which can reach thousand to millions of people. You may find yourself at the mercy of mainstream media or worst, no one knowing who you are. Internet media gives you freedom to present what you feel is important.
The National Basketball Association (NBA) and The National Football League (NFL) are now in the public's consciousness 24 hours a day, 365 days a week because they not only work with the major media sports show on public and cable TV, but they have their own subscription cable networks for their fans also. They program everything from nostalgic games to players showing off their cooking skills.
In the USA, boxing has Entertainment and Sports Programming Network (ESPN), professional wresting has UPN and Spike TV, K1 have ESPN, and mixed martial arts have Spike TV. All have grown popular under these networks.
Now thanks to the Internet, you will be able to grow faster in your career and the world will know of your exploits through Internet radio.
AS ALWAYS, DON'T LEAD WITH YOUR CHIN AND KEEP ON PUNCHING!
GOOD LUCK!