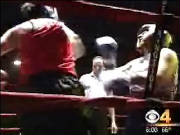 Picture shows Ms Zerlentes taking the deadly punch.
Women Boxer Dies After Knockout Punch

Apr 5, 2005 5:57 am US/Mountain
DENVER (CBS4) Denver police are investigating the death of a female boxer after she was knocked out in a fight Saturday night at the National Western Stock Show complex.

Becky Zerlentes, 34, of Fort Collins, died Sunday afternoon, Denver County Coroner Howard Daniel said. The preliminary cause of death was blunt force trauma to the head, but results from an autopsy conducted Monday were not immediately available.

Zerlentes is believed to be the first woman in the United States to die from injuries suffered in a boxing match.

The 2005 state boxing championships senior female championship fight featured two amateur fighters, Heather Schmitz and Zerlentes.

In the third round Schmitz delivered a knock-out punch from which Zerlentes, who had a 6-4 record, did not get up.

She was still breathing when emergency medical crews were called. Zerlentes was taken to Denver Heath Medical Center where she had emergency surgery.

Zerlentes' death is being investigated by the Denver police department and is being led by detective Tyrone Campbell.

"I'm looking for at what point the fight was stopped," Campbell said. "Any signs that it should have been stopped earlier."

The fight was stopped shortly after Zerlentes, a professor of geography and ecomonics at Front Range Community College's Larimer County campus, hit the canvas and Schmitz was sent to a neutral corner.

"I didn't want to hurt her," Schmitz said before she knew the extent of Zerlentes' injuries. "So I feel very badly about that, and I can only hope that she's OK."

The fight was stopped once in the second round, when Zerlentes was treated for a bloody nose. The fight continued with both fighters showing strong stamina.

"At the present time, I'd have to review it a bit further," Campbell said. "But at the present time, [there is] nothing glaring [to indicate foul play or negligence]."

As standard procedure in a Golden Glove-sanctioned bout, doctors examined both fighters before the fight.

"She came up to me, introduced herself, I introduced myself," Schmitz said. "She was a very friendly, intelligent, respectful woman, and we were friends instantly.

"I feel horrible how it ended," she said. "You don't go in with the idea, 'I want to hurt this person.' You go in with the idea, 'I want to win.' "

A representative with Golden Gloves said all boxers are checked by a doctor twice before getting in the ring and they're checked again after the fight. The representative said the organization is devastated by Zerlentes' death.

USA Boxing, which oversees the Golden Gloves, sent it's condolences to the Zerlentes family. USA Boxing also said there is an innate risk involved in amateur boxing and it has specific safety regulations.

For example, a certified doctor must be ringside; athletes are given thorough pre- and post-fight physicals and all events adhere to strict weight classifications.


CLICK LINK BELOW TO PURCHASE BOOKS ON BOXING!