CLICK LINK FOR BOXING PRODUCTS!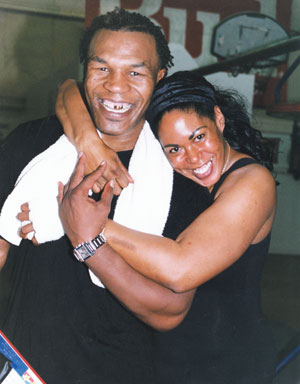 MIKE TYSON AT THE CROSSROADS-TRAINING THE OLDER FIGHTER
"I can fight the same as I always had, but now it just takes me a little longer to do the things I used to do!"---Muhammad Ali talking to a Chicago TV new reporter, one year after his retirement.
Mike Tyson showed a spark of his old self against British contender, Danny Williams. He came out in the first round enthusiastic and fiery but later, he was injured.
Tyson's handed picked trainer, Freddie Roach, said he was going to talk to Tyson about his future in boxing and this may be the end of Tyson's career (...at age 38).
Well Freddie, I hate to break this little tid bit of information to you but there are plenty of fighters that have met adversity, took time out to plot a new strategy and continue to pursue their fight careers at advance ages. Sometimes continuing to fight at an advanced age does not mean reclaiming the championship of the world, but the satisfaction of competing, winning and enjoying solid careers.
Fighters such as Hector Camacho, Evander Holyfield, Roberto Duran, George Foreman and Archie Moore enjoyed their careers at advanced ages. Mike Tyson suffered broken cartilages in his knee, which prohibited him from putting up a competitive fight. This helped Danny Moore KO Tyson. Team Tyson has to realize that if Tyson still has the fire to fight, then he may have to train differently. This may be the time in his life where he will have to retrain himself, if he has an open mind to do it.
In training the older pugilist, trainers have to realize they have to give him more rest and recovery time. The body has to have more time for flexibility exercises that may prevent such things as a cartilage tear. He will need more fluid. Approximately, four times as much as he did in his twenties because the fighter will dehydrate faster. Strength training will have to have more emphasis on toning and higher repetitions that will help add density to his skeletal system.
The elder fighter's best assets are agile footwork, good vision, great defense and fast hands.
AGILE FOOTWORK-Most fighters beyond 35 years old are going to lose their honeybee type movement. Now it is time to re-emphasize basic movement; straight, back left, right, circles, and angles. Instead of the old pug using the entire ring like in his younger days. Now it is time to use a shorter area but keeping the body moving at all times within that area. Using more angles and circular movement so that he will not be a standing target reminiscent of an old punching bag. In training, there should be rounds and rounds of shadowboxing where he could practice with or without someone in front of him, practicing shorter foot movement and throwing punches in angles, circles and to his sides.

GOOD VISION-This training focuses on reacting to the opponent stepping in and out of the elder's punch range. On average, the elder fighter will have a slower reaction time than his younger counterpart, so knowing where his punching range starts and stops, no matter where he is in the ring will help him react quicker.

GREAT DEFENSE-As they say in the National Football League (NFL), "Defense Wins Games, Offense Sells Tickets." This is true. If your opponent cannot score; you cannot get hurt. I know that some trainers/teachers may not share my philosophy but defense is the first thing I teach in any discipline in the pugilistic arts. Blocks are like good lead jabs. Once you learn them, they never go away. For the elder fighter, blocks are very important because of slower overall movement. As the fighter grows older, he will have to learn to use more blocks and he has to learn to depend on punching out of blocks when facing opponents with superior speed.

FAST HANDS-Elder pugilists do not have to worry about making their hands swifter. Father time eventually robs us of speed. But the use of angles and accurate punches sometimes give the opponent the illusion of fast hands.
With all the new breakthroughs and discoveries in medicine and human performance, we are experiencing a large number of athletes competing at an extraordinary level well beyond the age of 38 in every professional sport. Eventually, we will see elder boxing, like the seniors' tour in golf with their own sanctioning organizations. I believe Mr. Tyson still has gas in his tank. Mike seems to be outpunching the demons that has been haunting him for the last ten years. He is back on the psychiatrist couch and is handling his life better. Now it is time for him to look for a trainer that can help him get his career back on track. A trainer that understands how to train the older fighter and has a strict sense of discipline and morality.
The man I believe whom can help Mike tyson return to be at least being an entertaining fighter is GEORGE FOREMAN.
CHOW BABY!
AS ALWAYS, GOOD LUCK!
CLICK LINKS FOR BOXING PRODUCTS!
The Ultimate Boxer and Related Books