Policemen and women practicing self-defense.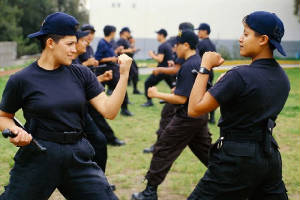 Practicing technique and timing.
SKILLZ & DRILLZ-TIMING-THE DIRECT CONNECT OF SPORTS FIGHTING
When we think of "direct connect" in our profession, we are not thinking of Nextel Communications but the ability to recognize an opportunity and capitalize on the perfect moment. Timing is often confused with speed. To clarify, speed is the amount of time it takes for a strike to move from initiation to the target. Timing is moving at the correct moment and tempo. It often requires speed, but is not identical to moving quickly. Timing can be slow, medium or fast.
Timing comes from a combination of experience and knowledge. Beginners often assume the key to attacking successfully is to strike as quickly as possible at any time. As they advance, they find that speed is not everything. Certain times are better for attacking than others. When a fighter masters timing, he instinctively senses the perfect time for an attack. The actual execution of timing can be learned through long hard workouts.
It is in action a blend of speed, perception and accuracy. It also requires superb technical knowledge and control. Confidence in you ability and self-knowledge enhanced your physical skills and lure your opponent into your preferred timing. Knowing when, how and with what technique to strike is the essence of timing.
One of the reasons timing is so important lies in controlling the distance between you and your opponent. By moving at the right speed and the right time, you can avoid incoming attacks and launch initiative and counterattacks successfully. Movement creates weaknesses in form and defense.
Timing can be improved through practice, drills and experience. Practice means repetition of the basics of your system so you can use them at will. Drills help improve timing. The best drills are those that simulate actual sparring, grappling or whatever situation you expect to encounter.
The basic principles of timing are:
Attack when your opponent is:
In midstep

Changing stance

Advancing

Retreating

Reacting to a feint

Stationary

Thinking or distracted
Counterattack when your opponent is:
Changing position or direction

Spinning or turning.

Attacking

Between attacks

Finishing an attack

Retreating after an attack
Based on these principle, design drills that hone your timing skills. Avoid telegraphing movements. Remove any pre-initiation habits, like shouting or foot stomping, that signal you initiative attack. Use swift and varied footwork to control the timing of your opponent's movements.
Take every opportunity to create or seize the perfect time for an attack or counterattack.
Practice consistently and you will note steady improvement in your timing.
CLICK LINK BELOW TO PURCHASE EQUIPMENT TO IMPROVE TIMING.
Timing Equipment for Fighters
Training Camps- De La Hoya vs Mayweather