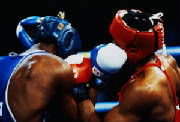 STARTING A BOXING GYM, PART 1
One of the questions that are most often asked on this website is "How to Start A Boxing Gym?"
Starting a boxing gym or club is the same as other businesses. It will have to be well planned; just like any business big or small. This means that you just cannot rush into building and operating your boxing business but you will have to look at yourself and your resources and decide if this is going to be something that you will build and maintain over the long haul.
Boxing gyms are not easy businesses to run. Just like IBM or Xerox, you will have to be knowledgeable of your sport and learn how to operate the business. The more you know, the better off you will be.
The first thing you should look at, is yourself.
Are you a person that is sensitive or ill tempered? Are you organized? Can you stay cool when things go wrong? Are you in it only for the money? Are you willing to work long hours? Do you like teaching? Are you patient? Do you like people? Do you have a burning desire to be successful in this sport/business? Are you the type of person who like learning new information about your sport and related subjects? Do you like to network with people? Can you deal with strong personalities or hard to reach individuals? Can you adjust to multiple tasks? Can you delegate responsibility?
These are just a few questions you should ask yourself before you start a boxing gym. Take it from a person who has worked in boxing, fitness and martial arts facilities over the last 20 years.
The first step in building your business is to build yourself. Make sure you have what it takes. A degree in business or business administration is almost a requirement, if not a plus in running every business.
The next step is learning your sport. I know that a lot of boxing experts had learned their sport through the school of hard knocks, which is fine but a formal education will help you look like an expert in your profession. You want to have pertinent answers when you face a client that has multiple questions and you will have clients that will want to ask lots of questions. You want to give your clients answers with factual information.
Earn a certification or degree in human physiology, sports administration and boxing. There are various sport and fitness organizations around the world that you can obtain certifications from. Their jobs are to keep up with sports and fitness activities like boxing and provide the latest information, discoveries and research in these fields. You can perform a search of the web to find these organizations.
After you assess your skills as a potential businessperson, acquire what credentials you will need to help run your business. The next job for you will be planning your business!
NEXT-PLANNING YOUR BOXING GYM, PART 2-WRITING YOUR BUSINESS PLAN